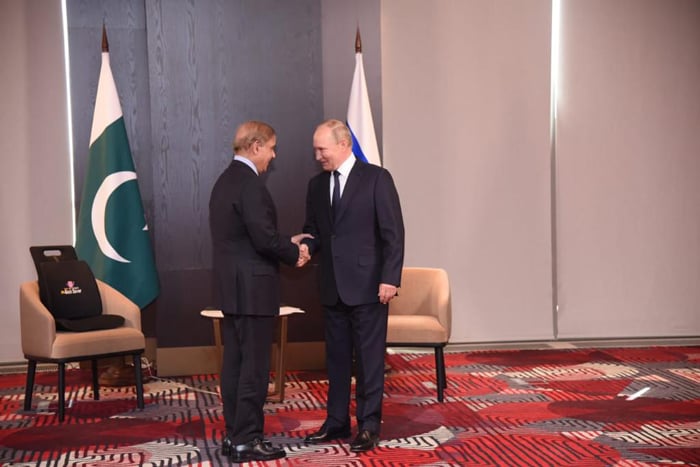 PM Shehbaz Sharif, Russian president Vladimir Putin meet in Samarkand.
Both leaders discuss Pakistan Stream gas project.
PM Shehbaz on two-day visit to Uzbekistan to attend SCO summit.
---
MOSCOW: Russian President Vladimir Putin said on Thursday that pipeline gas supplies to Pakistan are possible, and that part of the necessary infrastructure is already in place, Russian state-owned news agency RIA reported.
President Putin and Pakistani Prime Minister Shehbaz Sharif met today on the sidelines of the Shanghai Cooperation Organisation (SCO) summit in Samarkand, Uzbekistan.
The high-level meeting came after the prime minister reached the Uzbekistan capital to attend the annual meeting of the SCO's Council of Heads of State (CHS) during a two-day visit — from September 15 to 16.
After the meeting with Putin, the prime minister held a bilateral meeting with Tajikistan's President Emomali Rahmon.
The two leaders held wide-ranging talks covering all aspects of mutually beneficial bilateral cooperation, including regional and international issues.
The Prime Minister thanked Tajikistan for its support to the flood affectees in Pakistan and shared details of the devastation caused by the massive floods, induced by climate change.
The prime minister underlined the importance of regular meetings on bilateral institutional mechanisms and the establishment of mutually beneficial cooperation in the implementation of energy projects.
He also reiterated Pakistan's resolve to timely completion of the important "CASA-1000" power transmission project.
The SCO summit
The SCO summit will be chaired by Uzbek President Shavkat Mirziyoyev, where important global and regional issues, including climate change, food security energy security, and sustainable supply chains will be discussed.
The SCO leaders would also approve agreements and documents that would chart the future direction of cooperation among the organisation's member states.
Besides attending the summit, the prime minister will hold bilateral meetings with other participating leaders on the sidelines of the Council of Heads of State meeting.
Read more: PM Shehbaz, Modi to meet in September at SCO summit
Since becoming a full member of SCO in 2017, Pakistan has been actively contributing towards advancing Organisation's core objectives through its participation in various SCO mechanisms.
Collectively, the SCO member states represent nearly half of the world's population and a quarter of global economic output.
"SCO's agenda of promoting peace and stability, and seeking enhanced linkages in economic, trade and cultural spheres, is aligned with Pakistan's own vision for enhancing economic connectivity as well as peace and stability in the region," read a statement issued by the Prime Minister Office.